Meet Lillian (@cookingoncall on Instagram)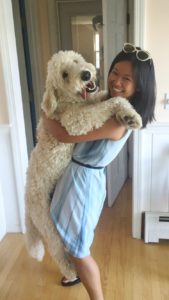 Lillian has some really creative ways to use Salba Chia seeds – Like watermelon spritzers for that summer BBQ. She is full of surprises, not only is she smart as a whip (she's a physician) she's a foodie mastermind and expecting her first baby in August!
Heres a little more on Lillian:
What do you do: I'm a resident physician in my last weeks of training at Brown University, I'll be going to Harvard University to finish my subspecialty training in Boston. I am a Radiologist which means that I look at images taken of the inside of your body using x-ray, CT and MRI. In olden days, doctors had to cut patients open to see what was happening inside. Nowadays, throw them in the tube and I can give you the answer!
What does nutrition mean to you: As a physician, everyday I see the ramifications of nutrition. While there is so much more for us to know, we have found time and time again a connection between obesity and environmental toxins with cancers. Our bodies are beautiful. They are our temple but also the most miraculous machine. We need to keep it tuned and fueled so it can continue humming along for years to come.
What is your view on food: For as long as I can remember, I have enjoyed playing with food. I used to mix different dishes my mom made together, making sure to include enough starch to keep it held together and form it into a "cake" for my dinner.
Fast forward to 5th grade when crinkle cookies were my specialty. I made these for all my friends and only my favorite teachers.
There were those countless times that I tried to make meringue cookies but never got them to stiff peaks (patience is a virtue that has come with age). Nevertheless, my dad ate them anyways and encouraged me to make more.
While some of my skills have gotten better, my favorite thing is trying something I have never done before, especially something I dreamed up. Today, I still make food for those I love. It is truly a way to feed the soul and one of my favorite things to give. Nothing says love like something you have made yourself.
Why do you love Salba chia: 
First, Salba Chia's pillars of passion and responsibility resonates with my approach to medicine and life. Second, their superior product that always me to know that I am doing the BEST I can for myself and those I cook for. Chia seeds are known to be a great source of antioxidants, omega-3s and protein, Salba Chia goes the extra mile to make sure theirs have the most of the best parts of the chia seed. Lastly, the possibilities are endless. From savory soups to sweet tarts, their chia seeds allow you to add extra nutrients to anything.
What is happening next in your life: 
I'm expecting my first bundle of joy in August and currently doing a lot of packing for the short move from Providence to Boston.
It's an even mix of nerves and excitement to start this new adventure. Right now, I am constantly on the lookout for what to add to my baby registry (advice always welcome). Also trying very very hard to resist getting all the baby clothes and accessories that I see; have you seen how cute baby shoes are?
As I pack I am trying to Marie Kondo my stuff along the way, which is getting less and less successful as the move date inches closer. It is amazing how much cooking stuff I have despite trying to not get tools with only one job. Since I've only lived in our current house for a year, anything I have not unpacked clearly does not bring me joy, right?