Salba Chia Matcha Chocolate Bark
This tasty chocolate bark is full of super foods and has a little caffeine kick for that afternoon slump.
: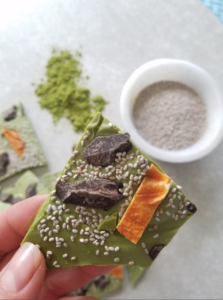 Ingredients:
12 Oz good quality white chocolate chopped
1 1/2 Tbsp Matcha Powder
1 tbs of ground ginger
1/2 cup chopped dried mango, divided
1/3 cup coconut flakes, divided
3 tbs of Salba Chia whole seeds (Dark Chocolate covered seeds would work well if you'd like)
2 Tbsp of cacao nibs
Directions:
Line baking sheet with parchment paper. Melt chocolate in double boiler or heatproof bowl that is set over simmering water – stir often and keep a close eye not to burn the chocolate.
Sift the Matcha powder and the ginger powder into melted chocolate and mix in well so the color is uniform.
Add in coconut flakes and half of the dried mango chunks. Then spread mixture onto parchment lined baking sheet. Sprinkle with the remaining mango and Salba Chia seeds. Chill in the refrigerator flat until the bark becomes firm. Break into pieces to serve.