Sweet Maca Pumpkin Pie With Ground  Salba Chia By Chad Montano
This super food powerhouse pie is so loaded with nutrients you have no reason to feel guilty going back for seconds! C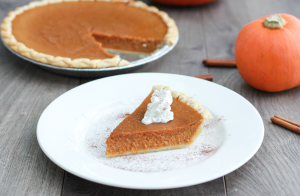 heck out Chad's Foodie Instagram account @briewilly for more superfood inspiration but in the meantime here is the recipe!
Ingredients
3 egg whites
1 can pure pumpkin puree
1 tbsp Salba Chia ground chia seeds
2 tbsp MRM Maca Powder
1 tsp cinnamon
½ cup honey
½ cup cashew milk
(Pick up a premade crust from your local grocery store or use your own recipe)
Directions
Preheat oven to 425 degrees.
Combine all ingredients to a bowl and mix thoroughly.
Pour contents into piecrust and bake at 425 degrees for 15 minutes.
Reduce oven temperature to 350 degrees and bake for an additional 40 minutes.
Let the pie cool before serving. Add whipped cream or your favorite toppings.