These taco bowls will hit the spot and they won't weigh you down like the traditional taco bowls with deep fried shells and greasy meat!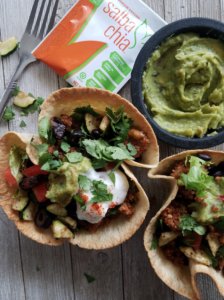 Taco bowl toppings (optional) :
Chopped Cilantro
Vegan sour cream or Kite Hill plain yogurt
Black beans (cooked)
Chopped tomato
Zucchini
Avacado
Walnut Taco Meat:
1 1/2 C Raw walnuts (soaked for a few hours to soften)
1 Tbs of ground Salba Chia
1 tsp ground cumin
1 tsp of chili powder
1 tsp garlic powder
2 – 3 tsp of olive oil
2 tsp of Tamari (gluten free option) or Soy sauce
cayenne pepper to taste (We like it spicy)
Sea Salt to taste
4 soft flour tortillas
Pulse in a food processor to get meat consistency, heat up a cast iron skillet with some avocado oil, pour walnut mixture in and brown the walnut "meat" * option to add chopped jalapeños or green peppers here.
Place soft tortillas in an oven safe bowl and bake at 350 until shell browns and takes form of the bowl. Remove from the bowl carefully and place on oven rack for a few minutes longer to  create bowl shape for toppings.
Add Walnut meat and toppings of your choice and enjoy!