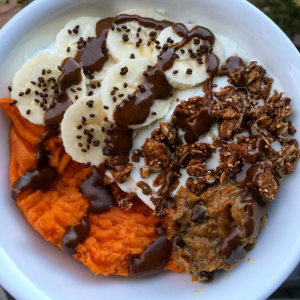 This Sweet and Healthy bowl is brought you by our friend Meredith Hohman, better known as Meres Nutty Kitchen. You can find more of her recipes on Instagram @meresnuttykitchen
1 Sweet potato
1 Cup of Yogurt of choice
Hungryroot vegan chickpea cookie dough (optional)
1 Bananas
 granola
Nut butter of choice
2 tbs Salba chocolate covered chia
Rinse and dry sweet potato.
Prick around it with a fork and cover in foil.
Bake at 400 degrees for around 1 hour or until a knife is easily inserted.
Let cool or refrigerate overnight.
In the morning, mash your sweet potato and layer with yogurt, cookie dough, bananas, granola, hazelnut butter and dar chocolate covered Salba chia.