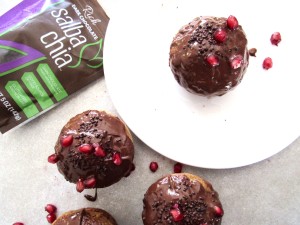 Ingredients: 
1 ½ C of whole-wheat flour
1 ½ C of all-purpose flour
5 teaspoons of pumpkin pie spice
2 teaspoons baking soda
1-½ teaspoons of salt
1 can of pumpkin pie filling
3 C of sugar (preferably white)
½ C of Vegetable oil
½ C of water
4 Large eggs (or sub for Salba chia "eggs" – 2 TBS of chia with 1 TBS of water, let sit for 10 minutes = 1 egg)
¼ C of Dark Chocolate covered Salba Chia Seeds (set 2 TBS aside to top muffins)
* Nutella Chocolate Spread (optional)
Directions:
Preheat oven to 330 degrees F. Grease 24 muffin cups or line with paper liners.
Mix whole-wheat flour, all-purpose flour, pumpkin pie spice, baking soda, and salt together in a large bowl. Whisk pumpkin pie filling, sugar, oil, water, chocolate salba chia seeds, and eggs together in a separate bowl until just mixed. Stir flour mixture, about 1/4 cup at a time, into pumpkin mixture until batter is just combined. Fill muffin cups with batter just below the brims.
Bake in the preheated oven until a toothpick inserted in the center of a muffin comes out clean, about 30 minutes. Cool muffins on a wire rack. Spread with optional chocolate sauce and sprinkle leftover Dark chocolate Salba Chia seeds over the top.