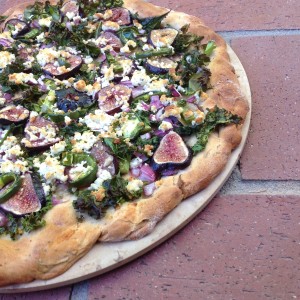 Ingredients:
1 pizza stone (or baking sheet)
1 raw or frozen pizza crust. I prefer Trader Joe's Garlic and Herb raw dough (or make your own from scratch)
4-5 Raw Figs
2 C of raw Kale
1/4 C of Olive Oil
1/4 of Salba Chia
1 Medium Jalapeño
1/2 C of crumbled goat cheese
2 TBS of Raw Honey
Salt & Pepper (taste)
Dried oregano
Directions:
Mix Salba Chia into raw dough
Roll Crust out on non stick surface (have flour available if dough is sticky)
Place on Pizza stone and bake at 400 until crust begins to rise and harden (5-10 minutes)
Pull stone out carefully,  drizzle olive oil over lightly baked dough
Top pizza dough in this order: Kale, sliced figs, jalapeño, goat cheese, salt and pepper
Bake pizza on stone in oven at 400 for another 15 min or until crust and cheese is a slightly brown
Let pizza cool down a bit and drizzle honey in a spiral motion over pizza. Crumble dried oregano over pizza. Slice and serve !