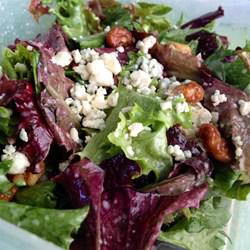 Salads are a staple in our household and there are a few reasons why:
1. Great use of left overs
2. Way to use up any veggies that are getting dated
3. Easy to put together
4. Easy to get different flavors each time
With that being said, here is a list of different ideas and
toppings to throw on your lettuce. I prefer spinach or dark leafy mixed greens as my base because they are more nutrient dense. I try not to go overboard with toppings, otherwise your salad calories will add up fast. I try to pick one from each category. With dressings, I usually start with a base of any kind of oil (olive, grape seed, sesame, coconut, or avocado oil) and add 2 more ingredients to it (herbs, amino acids, a vinegar, or honey).
Cheeses (pick one):

Blue cheese crumbles
Feta
Goat Cheese
Shredded Cheddar
Gorgonzola
Shredded Vegan cheese
Proteins (pick one):
Turkey
Chicken
Ground Beef or Bison
Steak
Tofu
Tempeh
Egg
Salba Chia
Nuts
Portobello Mushrooms
Avocado
Additional Toppings (choose 3-4) get creative with leftovers:
Carrots
Corn
Beans
Seeds
Bread Crumbs
Peas
Noodles
Tortilla chips
Broccoli
Celery
Dried Fruit
Fresh Fruit
Salba Chia
Fresh Herbs
Dressings:
Lemon Juice
Apple Cider Vinegar
Balsamic Vinegar
Olive OIl
Coconut Oil
Fresh Herbs
Salt & pepper
Red pepper Flakes
Honey
Braggs Liquid Amino Acids
Prepared Dressings (Check the labels before drizzling all over your fresh ingredients, be sure you can pronounce all the listed ingredients)
Mix it up if you prefer and enjoy!