Vegan Smashed Chickpea Avocado Boats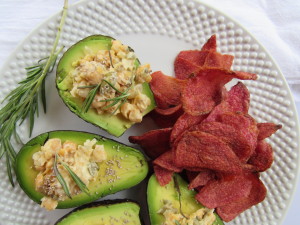 These Avocado boats are great for a nice light vegan dinner or a great appetizer at a BBQ.
1 1/2 C of cooked chickpeas, drained and rinsed if canned
1/4 C finely chopped dill pickles
1/4 C of finely chopped red onions
2 Tbsp vegan mayo (you may also use regular mayo)
1 Tbsp chopped fresh dill (or rosemary as pictured)
1/4 tsp ground black pepper
1-2 Tbs of Salba Chia Whole Seeds
2 Avocados chilled, halved and pits removed
In a large bowl, smash the chickpeas with a fork or potato masher leaving some texture. Stir in all remaining ingredients. Place avocado halves, cut side up on serving plates and mound chickpea salad mix on top (you will most likely have leftovers). Sprinkle Salba Chia over the top and serve.