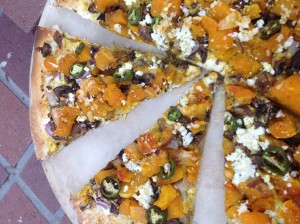 What better way to bring in Fall with this flavorful spin on pizza. The best ingredients are usually picked right from your very own garden, Squash harvest is my favorite and this is a great way to use up left over squash.
Ingredients:
2 C of Butternut Squash (1/2 inch cubed)
16 oz of refrigerated pizza dough
2 1/2 oz of fresh mozzarella cheese, drained, chopped
2/3 C red onion
2 Tbs. chopped Italian Parsley
1/2 Large red or green Jalapeño finely chopped (optional)
2 tsp. grated lemon peel
1 clove of garlic, minced 1tsp
1/3 C of crumbled goat cheese
1/4 cup of Salba chia whole seeds
Directions:
Place large baking sheet or pizza stone on oven rack and warm to 450
Coat skillet and cook squash (or cook in oven prior and cube) add squash and season with salt. add 1/4 cup of water and bring skillet to a boil to cook squash until tender
Place rolled and formed dough on pizza stone or on foil if using a baking sheet bake for 3- 5 minutes to stiffen shape of dough
Pull dough out and drizzle olive oil around pizza and sprinkle garlic and chia all over crust and cover with mozzarella cheese, onion and squash
Bake at 400-450 for 15 minutes or until crust turns light brown and cheese is bubbling
Meanwhile toss together parsley, jalapeño, lemon peel and garlic
Pull pizza out of the oven and add parsley mixture and sprinkle goat cheese over the top
Transfer pizza to cutting board, allow to cool for 1 – 2 minutes slice and enjoy!