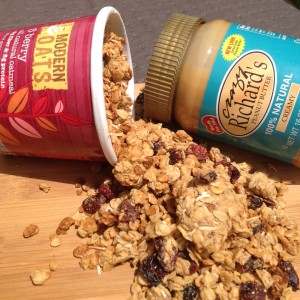 Granola can be a fun way to change up any routine. Add it to cereal, yogurt or oatmeal for an extra crunch. You can top smoothies and salads with it to change up the texture, or just pack it for a great snack. The best part about granola is all the fun ingredient you can add to it. So why not make your own granola in the flavors you imagine up?! It's easy, inexpensive and customizable.
Ingredients:
2 tbsp. creamy peanut butter (I prefer Crazy Richards original peanut butter, it's the easiest and creamiest to mix in and made with nothing but the finest peanuts)
2tbsp. honey
1/4 tsp cinnamon
1/4 tsp. vanilla extract
1 c. oats (if you need gluten free try making this recipe with Modern Oats, they have the best already mixed to go cups that work great for this granola recipe – see photo)
1/4 c. Salba chia
a handful of dried fruit (coconut, cherries, raisins)
1/4 c of coconut oil (or preferred oil to grease the pan)
Directions:
preheat oven to 325 degrees. Spray or oil cookie sheet with non-stick oil and set aside.
Combine peanut butter and honey in a bowl (microwave if your peanut butter is not melty for about 20 seconds). Stir together.
Mix in cinnamon, vanilla and Salba chia into peanut butter mix. Add the oats and dried fruit until everything is completely covered in peanut butter mixture.
Spread the oat mixture onto the prepared cookie sheet and bake for 7-8 minutes until granola is slightly browned. Be careful not to burn the bottom. Let the granola cool until it is crunch and enjoy!
*other ingredient ideas: Sesame seeds, pumpkin or sunflower seeds. Walnuts, pumpkin spice, chocolate chips, orange zest, pistachios, anything. If you are feeling less inspired you can grab any already prepared dry mix of oatmeal and throw it into the mix. I used the 5 berry Modern Oats Cup for the oatmeal pictured in the photo.