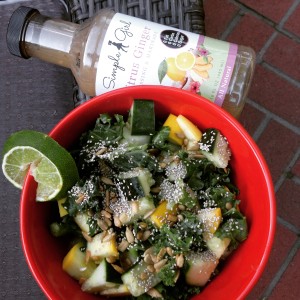 This veggie salad  is extremely easy to make not to mention it's full of vitamin C and low calorie. You can eat it as a meal or as a side dish.
Ingredients:
2 Medium sized yellow Zucchini Squashes
1 large Cucumber
1/2 of of a Lime
1-2 cups of Chopped Kale (your preference on amount)
1/4 C of Salba Chia
1/4 C of toasted sunflower seeds
1 C of Simple Girls "Citrus Ginger"  Dressing (This brand has 0 calories, 0 fat, 0 carbs, 0 sugars. It's all natural ingredients and made with real Stevia leaf- I highly recommend it!)
Directions:
Cube Squash and Cucumber into bite sized pieces
Mix Vegetables with kale in large bowl
Add in sunflower kernels
Mix in dressing
Squeeze Lime over mix
Toss all ingredients well
Serve and top with Salba Chia!