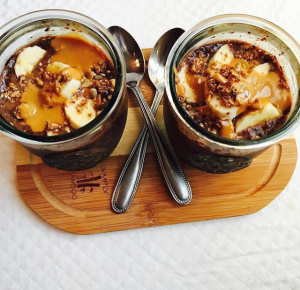 These overnight oats look messy but are delicious. You might just feel like you are eating dessert for breakfast! They also make a great post workout snack!
Ingredients:
1 cup almond milk

1/4 cup rolled oats

Half scoop V

anilla whey protein powder (or Vanilla Vegan protein) 

1 tbsp Salba

 Chia seeds

Carob powder

3 Sweet Leaf Stevia 

chocolate drops (found at most natural food stores) 

Bananas

Dates


Purely Elizabeths original granola

 Earth Balance

 coconut peanut spread

 Coconut oil  (optional)

Instructions:
Mix the first 6 ingredients together in a bowl and refrigerate overnight
Add topping before serving and enjoy!
** Photo/Recipe Credit: Sydney Healthy and Fit. Find more recipes on Instagram
—>@SYD_HEALTHYNFIT.