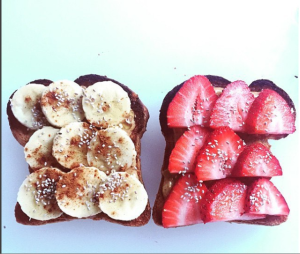 If you are short on time in the morning this is a great go- to breakfast. Not only is it customizable and easy to change up, it's full of fiber, protein and nutrients. Get creative for best results!
Ingredients:
2 pieces of your favorite bread (Use Gluten Free bread  or Rice Cakes to make Gluten Free)
2-3 TBS of your favorite nut butter (there are so many fun options out there now, be creative)
2-3 TBS of fresh season fruit.
2 TBS of Salba Chia
Instructions:
Optional – Toast bread
Spread nut butter over both slices of toast
Sprinkle 1 TBS over peanut butter
Pile the fruit onto the toast
Sprinkle last TBS of  Salba Chia over the top of the toast and Enjoy!
– Photo/Recipe Credit: Sarah Koenig