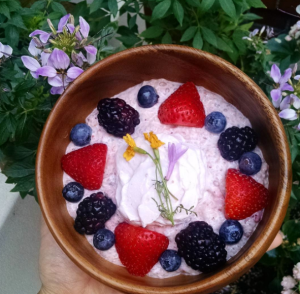 Overnight oats are one of the most popular and favorite ways to enjoy Salba Chia. Their are so many different ways to make them, you can change up the flavors easily and make it fun.
These overnight oats are colorful and full of berry flavor! This recipe was created by our fan Lucky_Peach from Instagram!
Ingredients:
1/3 C Oats
1 tbsp of Salba Chia whole seeds
1 tsp Flax seeds
3 Mashed strawberries (by fork or pureed)
1/2 C of Vanilla Almond Milk
Any berry flavored yogurt or greek yogurt
Instructions:
Mix the first 5 ingredients together in a bowl
Refrigerate overnight or for several hours
Add berry yogurt before eating once the oats have formed together overnight.