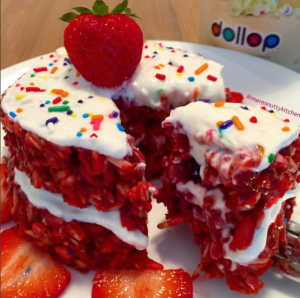 These oatcakes are fun way to switch up your morning oats. There are endless ways to be creative on flavors which makes them versatile to any flavor pallet! These Red Velvet Oatcakes are a no brainer for a fun breakfast

Oatcakes:
Bring 1&1/3 cups water to boil

Add 2/3 cup of any oatmeal 

blend

1 Tbs Salba C

hia Whole seed

Reduce heat to simmer and continue to cook until SUPER thick, harder to stir, and almost gummy like

Add in 1/2 tsp Lorann oils

 red velvet baking emulsion (so many fun flavors you can order online) 

Remove from heat and transfer into two greased ramekins

Flatten off the tops and refrigerate overnight
Frosting (optional):
Combine a scoop of Greek yogurt

1 Tbs Dollop Gourmet Madagascar vanilla frosting (or any other desired frosting)

1-2 Tbs Cellucor or other

 corfetti cake batter flavored whey protein powder. Mix until desired consistency and sweetness. 

Add sprinkles on top (optional)
Photo/Recipe Credit: @meresnuttykitchen – Find all of her amazing recipes on Instagram.