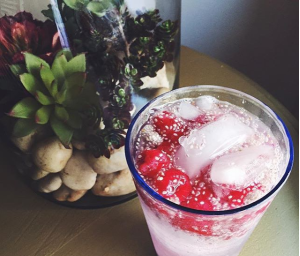 This refreshing drink will be sure to help you get through any of those afternoon sweet tooth cravings. It's easy and incredibly refreshing. This recipe is brought to you by @chickpeainthecity, you can find all her recipes on Instagram!
1 Can of  cran-rasberry La Croix sparkling water or other favorite berry flavors sparkling water
2 Tbs of whole seed Salba Chia
2 Tbs of fresh berries (whatever is in season is perfect!)
Stir together, let chia absorb liquid for 1-2 minutes
Serve over Ice and enjoy!
**Photo/Recipe Credit: Addie Martanovic. Find her Chicago living /eating inspired page on Instagram @chickpeainthecity.