Cinnamon Bun Pancakes With Ground Salba By @briewilly (Chad Montana)
These incredible Pancakes are Gluten Free, Dairy Free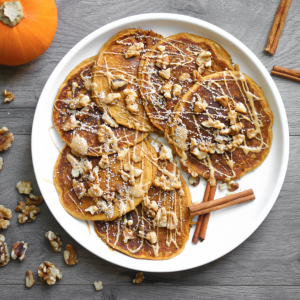 Ingredients
·      1 Cup Kodiak Cakes Pancake Mix
·      1 Cup Almond Milk
·      ½ Scoop MRM Veggie Elite Cinnamon Bun Protein
·      2 Tbsp Pumpkin Puree
·      1 Tbsp Salba Chia Ground Chia
·      1 Tsp Vanilla Extract
·      1 Tsp Cinnamon
·      1 Tbsp Peanut Butter
·      ¼ Cup Walnuts
Directions
1)   Heat a large skillet on medium heat and spray with nonstick spray. In a large mixing bowl add pancake mix, almond milk, protein powder, vanilla extract, pumpkin puree, and cinnamon. Using a whisk mix all the contents together.
2)   Pour about ¼ cup of the batter per pancake into the pan. Once you start to see some bubbles flip it over and continue to cook the other side (about 2 mins per side).
3)   Once the pancakes are done add your peanut butter into a microwave safe dish and heat it up for 20 seconds. Drizzle on top the pancakes and add walnuts. Enjoy!
**Follow Chad (@briewilly) on Instagram for incredible food inspiration and more Salba chia ideas!!****