Salba Chia Strawberry Quesadillas
Summer strawberries mixed with tangy goat cheese and mint gives these quesadillas a nice sweet and savory feel. The balsamic glaze makes them decadent, great for changing up dessert or an appetizer at a BBQ.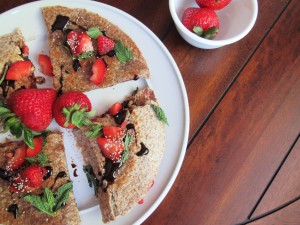 Ingredients:
1/2 C of Balsamic Vinegar
2 Tbsp of honey
Juice of 1/2 lemon
3 Oz of soft goat cheese crumbled
1 1/2 C of sliced strawberries
1/4 C roughly chopped mint
1/4 C chopped walnuts
1/4 cup of Salba Chia whole Seeds
4-8 in whole grain or gluten free tortillas
Directions:
In a nonreactive saucepan (stainless steel, enamel or glass) bring balsamic, honey, and lemon juice to a boil. Reduce heat to medium and simmer uncovered until syurpy and leaves a thin coat on a metal spoon (about 10 minutes). Set aside to cool.
Heat skillet over medium heat. Divide goat cheese, strawberries, mint and walnuts over half of each tortilla, leaving 1/2 in border. Drizzle balsamic over the top – then sprinkle Salba Chia Seeds on top evenly. Fold over tortillas to enclose toppings.
In the skillet heat quesadillas for about 1 1/2 minutes or until bottom of tortillas are darkened and crispy. Carefully flip and cook for 1 1/2 minutes more. Slice in half to serve – Drizzle excess balsamic over the top (if desired) and any left over Salba Chia seeds. Enjoy!